Tuesday, November 8th, 2011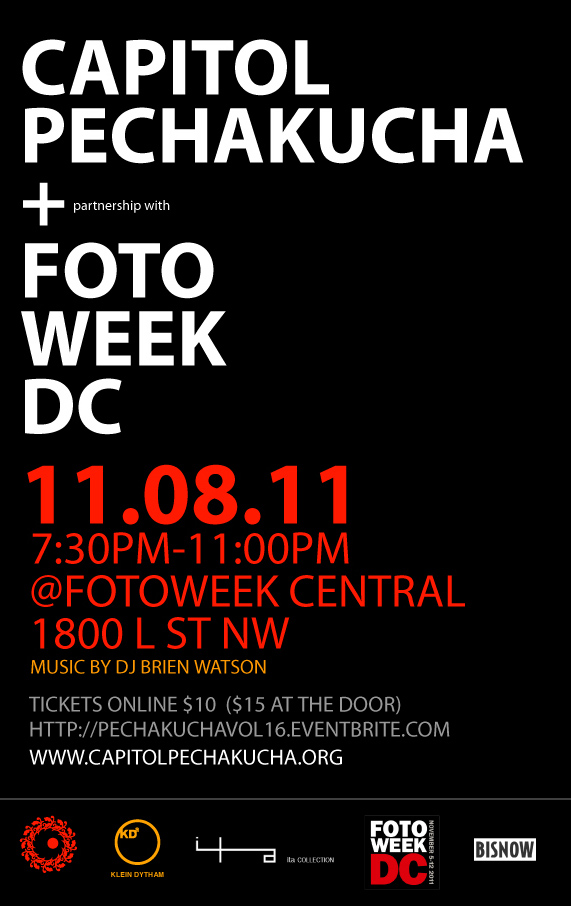 Please join me and eight other presenters this evening at Capitol Pechakucha Night in partnership with Fotoweek DC.
PechaKucha Night was devised in Tokyo as an event for young designers to meet, network, and show their work in public. It has turned into a massive celebration, with events happening in over 400 cities around the world to inspire creatives worldwide.
Drawing its name from the Japanese term for the sound of "chit chat", it rests on a presentation format that is based on a simple idea: 20 images x 20 seconds. Also referred to as "twitter for the visually inclined," it's a format that makes presentations concise, and keeps things moving at a rapid pace.
Tonight's 20×20 presentations will feature storytelling through the art of photography and film, the power of one hundred smiles, navigating the Congo river, reclaiming adult recess, working with Annie Leibowitz, and more…
Tuesday, November 8, 2011
7:30PM – 11:00PM
Fotoweek Central
1800 L Street, NW
Tickets: $10 online, $15 at the door (pending availability)
http://pechakuchavol16.eventbrite.com/